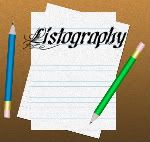 This is my first week at joining in with Kate's Listography. After all my recent unhappiness I thought this was a great one to join in with to show you all I'm not all about the doom and gloom.
1. One of my favourite songs coming on the radio whilst I'm driving, I love to sing out loud and bop away in the car.
2. Mr Boo posting a Milky Bar through the letter box when he knows its that time of the month to cheer me up.
3. Watching Pride & Prejudice (BBC version, obviously) for the thousandth time.
4. The postman knocking on my door, I get all excited to see what he has brought me (bills usually but a girl can hope).
5. Roo and Tigger giggling, there is something about children's giggles that just make you want to giggle too.
Why don't you take a look at what makes other people happy or better still share yours too.
Boo xxx