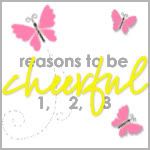 Short but sweet this week as I'm typing this as Tigger is having a power nap
1. Roo has moved up another level in reading, she is now on level 5. I'm so proud of her as they wanted her to achieve level 3 by the end of the year.
2. My job share partner quit. I'm sure some of you are wondering why this is something to cheerful about but we did not get on. She would often leave me the crappy jobs she didn't want to do. So whereas I know its going to make my life a little more hectic at work I'm pleased I don't have to see what mess she has left for me to sort out.
3. I've received some lovely comments over the last few weeks which has really cheered me up, so to all of you… Thank you x