Every New Year's Eve Mr Boo and I settle ourselves in front of the TV to watch Jools Holland's Hootenanny. We sit and watch the fabulous performances, try to spot celebrities in the audience and envy all the glimpses we are shown how to celebrate New Year's in Scotland. Seeing the historic and beautiful Edinburgh Castle all lit up with both locals and tourist enjoying the hogmanay below makes me more than a little envious. With two young children partying in the streets until gone midnight might not be the best idea but taking a trip to Edinburgh to enjoy the historic value of the city I feel would be a great plan b.
With a plan to visit Edinburgh my first is where can we stay. With children I feel it is important to get a hotel that is fairly central to where you are visiting, especially in a city as you don't want to have to be travelling back and forth to drop things off and getting things for the children. Hotel Direct have a range of hotels in and around the fine historic city and with the Balmoral Hotel offering views like this I can't wait to see the castle all lit up once the children are in bed.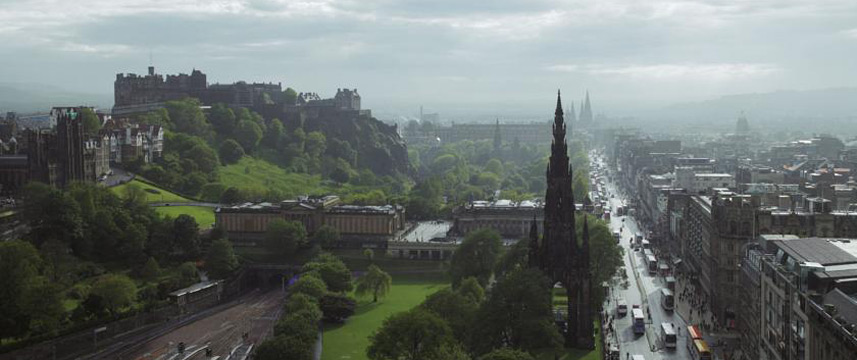 Edinburgh is a fascinating place to visit and has plenty of history and along with historical landmarks to see, from Linlithgow Palace (birthplace of Queen Mary of Scott's), Lochleven Castle (renowned for being the prison of Mary Queen of Scots) and of course the stunning Edinburgh Castle.
The capital city of Scotland since the 15th century, however power moved south to London in 1606 it took until 1999 to see a devolved Scottish Parliament.
The two main areas of historic interest in the city are the Old Town, which includes the medieval fortress of Edinburgh Castle, and the neoclassical New Town which dates back to the 18th century.
Much of the area from Old Town has been preserved from its medieval heritage and, as you walk through the streets of old town, it is almost like walking through medieval Scotland. With the New Town built in the late 18th century to over come the overcrowding issues within the Old Town. The architecture is typically of a neo-classical style with some buildings supporting grandiose, Grecian pillars outside and tall ceilings and decorative friezes and trimmings inside. With the Charlotte Square Gardens, Princes Street and the Scottish National Portrait Gallery to enjoy it is difficult to know what to go and enjoy first.
In 1995 the Old and New Towns were listed as a World Heritage Site an accolade that will allow Edinburgh's magnificent architecture for future generations. Having not visited Edinburgh before (well I've whizzed through it on a train but I don't think that counts) I have been asking my fellow bloggers which of the amazing array of historic treats they felt I needed to visit…
Mummy Central and her family spent the day on-board the Royal Yacht Britannia, they enjoyed getting to see the cabin where Prince Charles and Diana spent their honeymoon, and where the Queen entertained presidents.
Both Being Mrs C and Mum's Gone To recommended a trip to Camera Obscura, this attraction has five floors of zany optical illusions and is topped by a special rooftop show, the oldest purpose-built attraction in the city.
Lastly I have to share with you an A-Z of Edinburgh from Dorky Mum, a comprehensive selection of all that Edinburgh offers, personally I feel I need a tick sheet so I can try to see how many I can tick off during our visit.
Disclosure: This post is brought to in collaboration with Hotel Direct.