As I've mentioned once or twice we are looking to move house this year. With three children we outgrowing our small terraced house and are looking for something bigger where we can have friends and family come round without feeling on top of each other, the children can have more space to play and most importantly some outdoor space we can enjoy as a family.
Small Garden, Big Ideas
Over the past few weeks, I have been to look at a couple of houses as we are looking to rent for the first year or so in order for us to get an idea on which areas we prefer in the city etc. Whilst we aren't looking to live in the city centre we do want to be within a 30-minute walking distance of it. I've been quite surprised to find that many of the houses I've looked at and the ones I've researched on the internet have small gardens. Which is a bit of a blow as I'd imagined finding a house with a big garden, beautifully lawns etc., maybe a decked area where we can have family BBQs but now I need to realign my expectations and think about how i can make the most of a small garden.
Clever planting
I'm not exactly green fingered so having beautiful borders of flowers around the edge of lawn would be no good to me plus it would take up valuable floor space. I still want to have some flowers within the garden, just a few though I need to build up slowly so I think that these planters attached to a fence would be a good use of space as well as livening up an otherwise boring fence.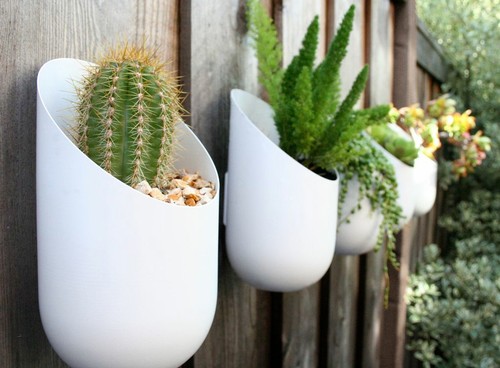 Storage solutions
Just like any room in the home storage within the garden needs to be considered, especially as we probably won't have space for a man cave – erm, I mean a shed. Between cushions for the chairs, buckets and spaces along with footballs I need to find some storage that is multifunctional. I'm loving the idea of a garden bench that can double up as storage too. I still need to think about a way I can store the children's bikes and scooters rather than in a big heap in the corner.
Practicalities
When the British weather allows I will need to hang the washing out, I don't want to rely on my tumble drier all the time so I'm thinking that a retractable washing line would offer me the best of both worlds. I can get my washing out on sunny days, and it can be put away when it is not in use, therefore, making it easier for the kids to play football etc. without a rotary airer in the middle of the lawn.
Do you have a small garden?
If so, please share your tips on how you have made the most from the space you have available.
Disclosure: This is a collaborative post