Anyone who knows me will tell you have a little obsession thing for spots. I love a good polka dot pattern so with the warmer weather coming (apparently it is coming… honestly!) I feel I need a little wardrobe makeover. I need to shake off my big bulky coat, stuff my jumpers back in the cupboard and get myself some new additions to get me through Spring and Summer.
In May we are heading off to Butlins so I want to get some key pieces that I can mix and match, thus hopefully reducing the size of my suitcase (a girl can hope). Shoes are always an issue as during the winter months I tend to live in boots so I need to find something more suitable. I'm thinking a simple pair of ballet pumps or little lace up trainers. So whilst looking I came across cheap shoes at New Look, I'm loving their range of lace up trainers for under £10.00!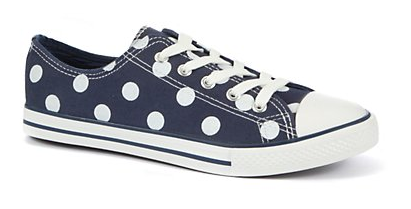 Navy Printed Lace Up Trainers – £9.99
I'm thinking these would be great with either jeans or shorts, what do you think?
Now when it comes to clothes I tend to stick to the same few pairs of jeans or leggings, with the occasional pair of shorts thrown in. So really I just need to add a few new tops to match in with what I already have.
I have found a lovely polka dot dress in the sale, however I'm not usually a dress kind of person so I thought I could pair it up with a nice pair of leggings.
Navy Polka Dot Frill Neck Dress –
Was £19.99
/ Now £13.00
We are hoping to enjoy a lovely family meal in Turners Restaurant whilst we are away so I want to get a new top to wear especially… Sticking with my favourite polka dot design I found this great top in the sale…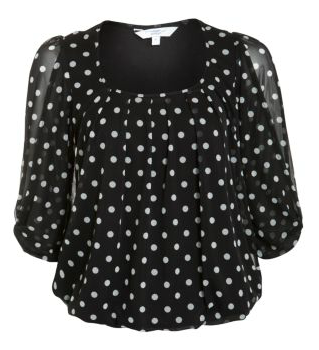 Black Polka Dot Split Sleeve Top –
Was £21.99
/ Now £12.00
What do you think? I have I gone dotty mad? I think teamed up with some plain jeans, leggings etc I will look fabulous (if I do say so myself!).
This post was brought to you in collaboration with New Look