Over the past few weeks I've been enjoying reading the 'What I'm Doing Now' meme that is sweeping across the blogging community so was pleased when Dorky Mum tagged me to join in on the action. For those of you not familiar with the meme it is a series of questions about what I'm doing now, covering a range of topics.
So without further ado…
Currently I am:
Attempting to get myself organised for the start of the school holidays. Roo and Tigger finally broke up for the summer holidays today, a teary day for Roo as she is moving on to junior school. Thankfully I'm now off work on holiday until the beginning of August so that I can catch up with the kids, housework, hopefully my emails and blogging too.
Reading:
Do magazines count? I used to be a big reader in my teenage years, opting for teen romance novels from the Point Romance range. Nowadays it is my subscription to OK! magazine that allows me to read something other than The Gruffalo, or one of the many children's books that now fill my home.
Listening to:
Clubland classics on my iPod whilst I'm at the gym, I love pounding away on the cross trainer to something with a good beat.
Laughing at:
My work colleagues, we have had some awful times recently but the one good thing going for us all is our sense of humour. Even on our most stressful days we can always manage to bring a smile to each others faces.
Swooning over:
Joshua Jackson aka Pacey Witter from Dawson's Creek – I've recently re-watched all the series of Dawson's Creek and loved getting reacquainted with Joshua Jackson. Take a look at him… swoon
Planning:
We have our bathroom renovation starting on Monday and it has crept up on me and I don't feel ready. I have a to do list of all the things my plumber needs me to get but with school finished it does mean that Roo and Tigger will have to come with me to the DIY stores for my last minute items – any ideas on how to keep them entertained whilst I'm selecting toilet roll holders?
Eating lots of:
Fruit – I love this time of year when it's quite acceptable to sit and eat a bowl full of fruit salad. The fresh pick your own strawberries, fresh from the field are simply mouth watering.
Feeling:
Tired, run down and in need of a few days doing nothing. The last month has been manic between extra shifts at work, school events and trying to organise things at home that my sleeping has suffered. Someone please have a word with Roo and Tigger and tell them that I need at least one lie in a week.
Discovering:
The qualities that others see in my children – with end of term reports coming home it is lovely to read about their lives at school, what they excel at, the things that they need to work on and the things that make them an individual.
Looking at:
Bathroom suites from selecting the right toilet, bath and basin to make the most of our small family bathroom to taps. Tiles – wall tiles, floor tiles, tiles that can go on either walls or floors, square tiles and rectangle tiles, so many to chose from. – who knew that there was so much involved in transforming the smallest room in our home
Wearing:
New pyjama's – I love PJ's if I could wear them all day long I really would. I decided to treat myself earlier this week as I'd only really got winter PJ's that fitted and boy was I get hot and sweaty in them (best not to picture that).
Cooking:
I've been very lax on the cooking front recently, opting to make batches of soup as they are an east fix for lunch etc. I'm hoping that with the aid of the children we will get some baking done over the next week or so (got to keep the plumbers happy whilst they are transforming my bathroom). I absolutely have to try out A Mummy Too's raspberry and white chocolate traybake, it looks simply divine…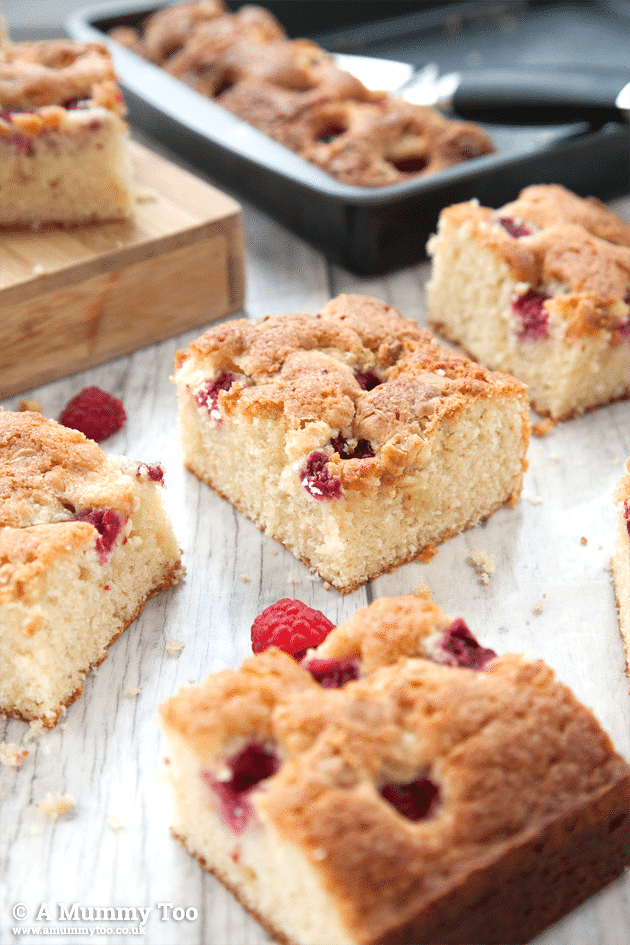 Wondering:
I find myself pondering about what it is that I am meant to do with my life. I have a job with no promotion opportunities so not likely to turn into a career, unless working for the same company for a number of years makes it a career rather than a job. When I was younger I wanted to join the Army, be an engineer and travel the world. Now I am happy being a mum but still need something that will stimulate my mind… but what??
Trying out:
A new work/life balance, at the moment I feel as though I'm constantly going backwards and forwards between different things and not achieving much. I try to answer emails whilst I'm out and about when I should be enjoying the time with my children, I'm worrying about not getting a post published whilst I am at work. I'm hoping that the next week or so I have off with the children will realign my motherhood time, day-job time and blogging time.
Time to tag a few others to take the meme forward, let's see what Emmy's Mummy, Hex Mum and Johnson Babies are up to