Cake is great, isn't it? It helps us celebrate some fabulous moments in our lives. So when Baker Days offered me the opportunity to review one of their letterbox cakes I of course said yes (who turns down free cake!). Although I suddenly thought I haven't got any birthdays coming up, however looking at the website I soon realised that their cake selection isn't just for birthdays.

After looking at the available designs and categories I came across a selection of 'just because' cakes and thought what a lovely idea. Why do we associate giving a cake which a special occasion? Why can't we just give cake because we want to?

I opted for the Just to Say Cakes: Birthday Treat design and personalised with 'Just Because…'


Within two days my chosen letterbox cake arrived. A simple white box slid through the letterbox and I wondered what it could be. Upon opening I was surprised to see it was in fact my Baker Days letterbox cake.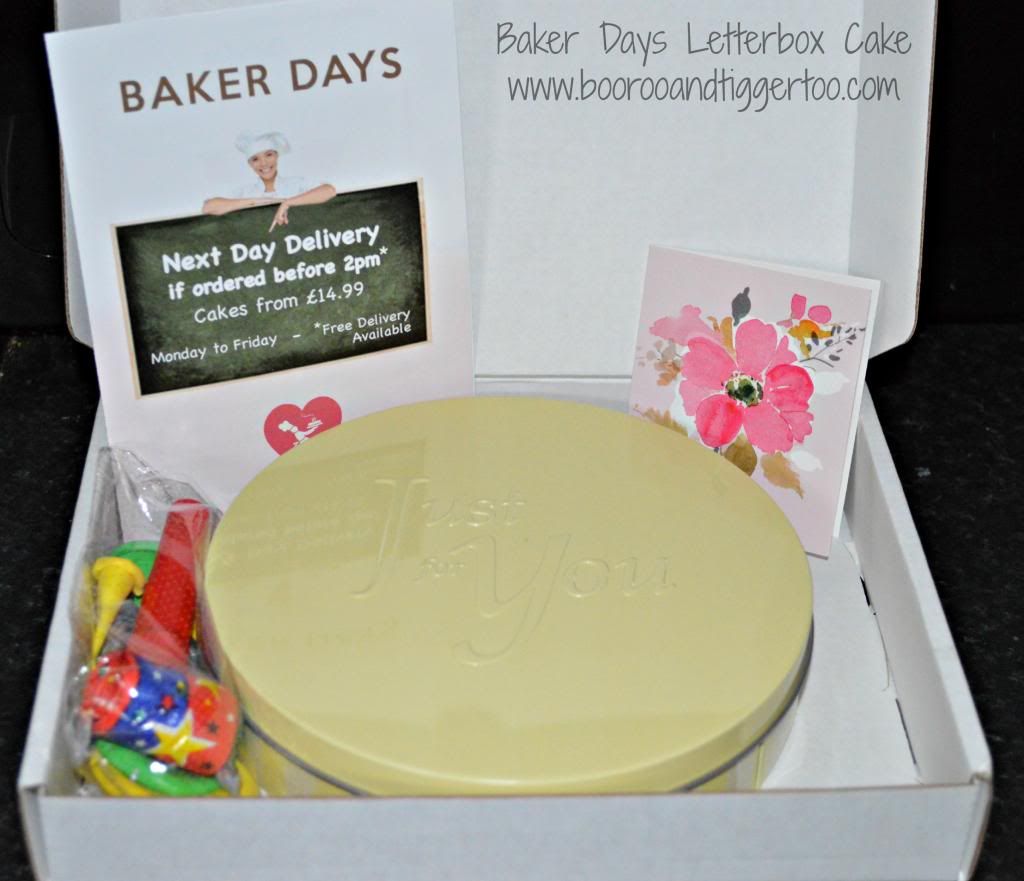 What's in the box?
Letterbox cake (3/4 portion size)

Just for you cake tin

Party supplies – balloons, party blowers and candles

Gift tag

Although the party supplies were not needed for my just because cake it was an added bonus and I have popped in the drawer to be used for the next birthday bash. The cake itself comes presented in a just for you tin so you could easily order the cake to be delivered to your address and then give the cake in person if you wished. I was a little worried what condition the cake would arrive in as we all know the state some of our mail arrives in. I needed have worried as the combination of the cake tin and outer box protects the cake from the bumps and bashes the postal system throws at it.

I ordered a carrot cake mix cake and upon cutting into the 3/4 portion cake I could feel the softness and moistness of the cake. Although the cake is advertised as a 3/4 portion I did manage to get 6 portions from my cake as the carrot cake was quite rich and I think I bigger slice may have been too much in one sitting. However if I had opted for a sponge I think 3/4 portions would probably be about right.


Boo Roo and Tigger Too's thoughts…
I like the idea behind the letterbox cake, the fact you can send cake to whoever and wherever. However I think that by having a round cake you are not utilising the space available in the postage box and could get a larger cake if it were made into a square or rectangle.

The design choices available I feel cater for most tastes and needs, with the option to photo upload too I can see this being a popular option. The carrot cake was moist, fresh and rich tasting making it a yummy treat to enjoy with family and/or friends.


Cake options
Double Chocolate Chip (+£2.00)
Gluten and Wheat free (+£2.00)
Price
More info
Boo xxx
Disclosure Policy
: I received a Baker Days Letterbox Cake in order to complete this review.