Discover a fascinating love underwater world
Discover the mystery of Aqua Dragons! Live aquatic creatures which you will bring to life hatching them out of their hibernated egg state by putting them into the aquatic habitat. Aqua Dragons look like tiny three eyed, long tailed, hairy headed dragons that grow up to 2cm long.
They swim and play graciously in their fascinating aquatic underwater world. Care for them and you will see them eat, grow, swim, play and even reproduce.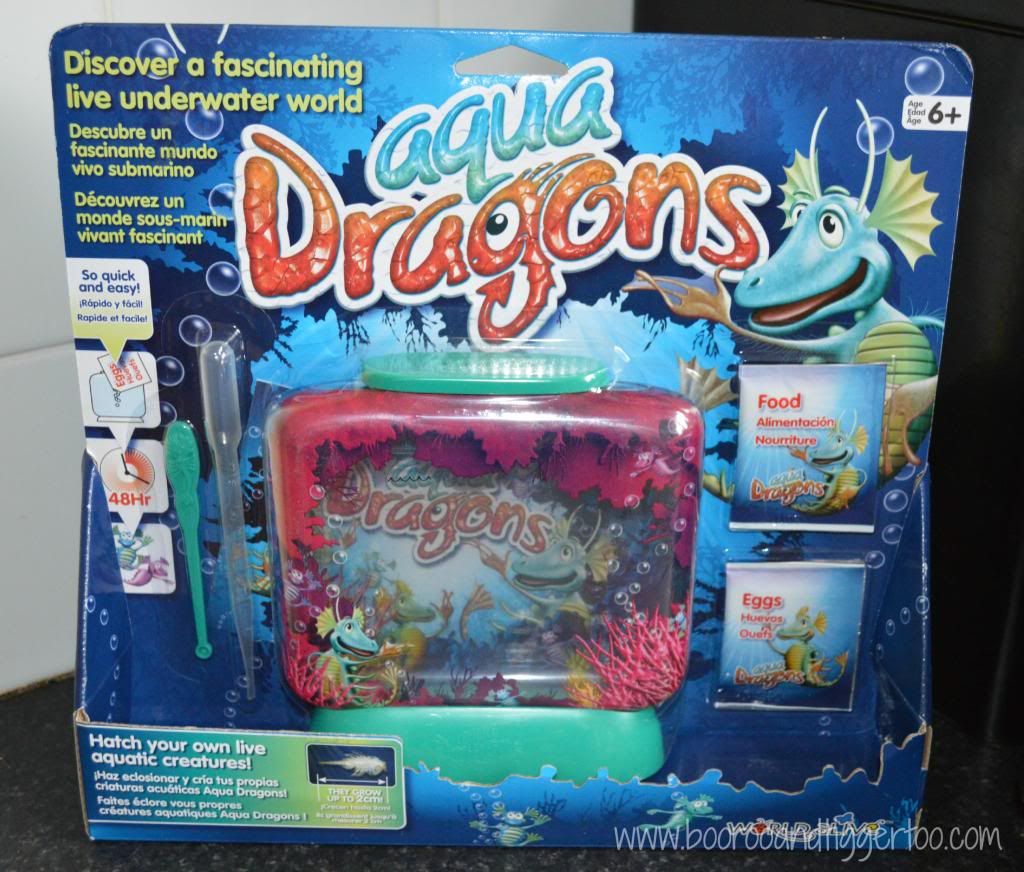 Includes:
Tank

Egg

Food

Pipette

Feeding spoon

Full instructions
How to set up Aqua Dragons:
Fill the tank with approx 380ml of bottled water

Add eggs

Wait patiently and over the next few days you will start to see your Aqua Dragons grow

Add food every 2-3 days
There are three kits available:
Aqua Dragons Underwater World

 – A full starter kit that contains tank, eggs, food, pipette, feeding spoon and instructions

Aqua Dragons

 – A great refill kit or for use with any container; containing eggs, food, pipette, feeding spoon and instructions

Aqua Dragons Illuminated

 – A deluxe kit containing ggs, food, pipette, feeding spoon and instructions with the added bonus of beautiful blue LED lights in the base of the tank and a magnifier to observe your hatchlings
Boo Roo and Tigger Too's thoughts…
Roo has always been interested in underwater creatures and crazied us for months for a fish tank when she was only 3yrs old! So when I showed her this kit she was so very excited.

As the kit is so easy to set up Roo was easily able to set up the Aqua Dragons herself. In order to remember when they need to be fed we have chosen Monday, Wednesday and Fridays to avoid over feeding.

The Aqua Dragons can take up to 10 days before you really start to notice the small wriggles in the tank and after a few weeks they are more noticeable.

This would make a great gift or project for any budding vets, scientists or curious children. 


Boo xxx
Disclosure Policy
: We received a Aqua Dragons Underwater World FOC for the purpose of review.