Now I know you are looking at this and thinking 'a toothbrush for Easter???'
Roo tried out the My Way last year and loved it, in fact still loves it. We have gone on to buy these as gifts for her classmates birthdays.
They are fun and functional all at once, all children love stickers so being able to decorate their spinbrush to their own design is always a winner. Parents can then be happy knowing that their little ones teeth are being well cleaned too.
Available for girls and boys from Tesco and Boots
Price – £5.99
I recommend placing a little tag on the box from the Easter Bunny
You could make your own or design something on the computer. How about adding a little joke about how do you think Bugs Bunny keeps his teeth clean!
GIVEAWAY
I am lucky enough to be able to offer the chance to win a My Way! Spinbrush. I have a boys and girls available so make sure you comment as to which one you want to win. Simply follow the steps on raffelcopter below:
a Rafflecopter giveaway<a href="http://rafl.es/enable-js">You need javascript enabled to see this giveaway</a>.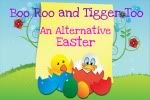 Boo xxx
Disclosure Policy: I am sharing some fab buys with you, I have received no products or financial reward for this post