Jacqueline Wilson fans will be sitting pretty this Christmas with officially licensed bean bags by 
BeanBagBazaar,
 the UK's leading designer and retailer of bean bags and bean-filled furniture.

Totally unique and exclusive to BeanBagBazaar, the range of bean bags are perfect gifts for girls aged 7-12 years old who are fans of the Jacqueline Wilson books.
BeanBagBazaar are delighted to work with this top children's author in designing and approving these exclusive styles. Jacqueline Wilson herself saw these products as an ideal extension to her range of books and the fun and colourful designs are perfectly in keeping with her popular line of titles. Featuring individuals and book covers from Jacqueline's stories, fans of her writing will be able to pick out their favourite titles and characters – including the star of the top CBBC children's series, Tracy Beaker.
Bean bags are, of course, the ideal reading accessory and will encourage children to curl up with one of the latest Jacqueline Wilson books.
"Encouraging children to read is a difficult task for any parent or teacher – a bean bag can help by getting children to sit comfortably and relaxed. And of course – they're fun! Plus these Jacqueline Wilson designs will really get children to engage with the storyline and characters." 
said Mark Dolder, Managing Director of BeanBagBazaar.
Roo loves reading, you can tell this by looking at her every growing bookcase. However finding a place to settle down and enjoy a good book is difficult. Usually she is found perched on the edge of the bottom bunk or laying on her bedroom floor.
The new Jacqueline Wilson bean bag range from BeanBagBazaar offers the perfect solution. Roo was sent the Tracy Beaker design to review and she was not disappointed when the parcel arrived. The bubblegum pink was a big it along with the familiar Tracy Beaker character and wording covering the bean bag.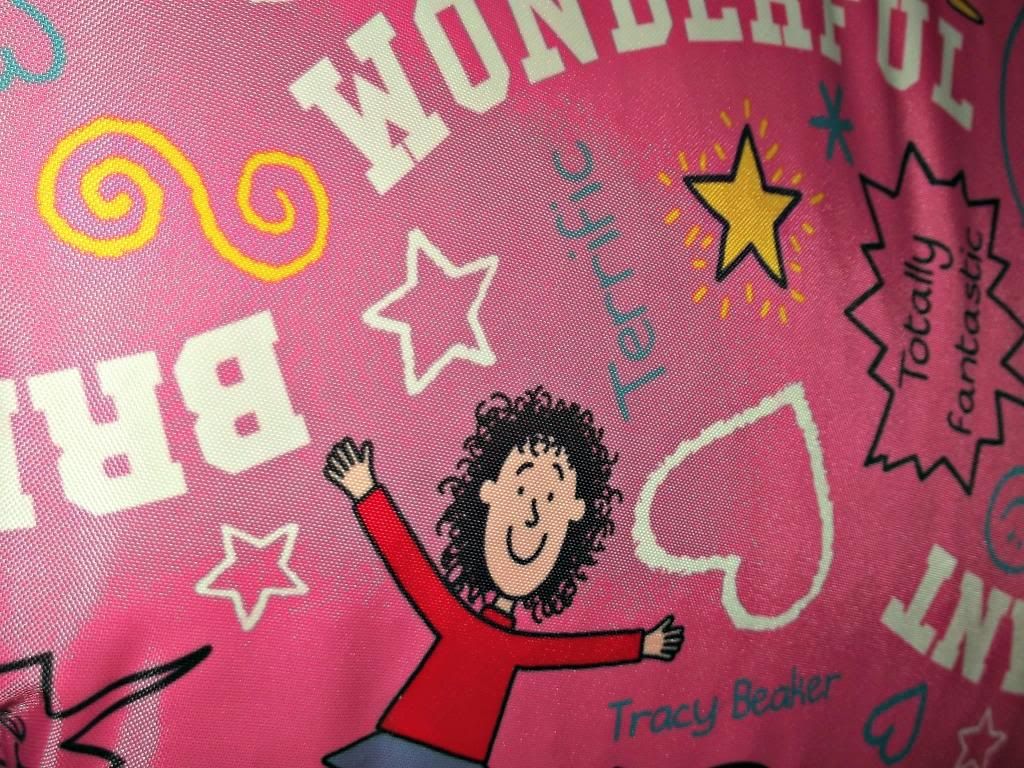 Personally when I think of bean bags I think of sinking so far into them that it makes it almost impossible to get out of and certainly not in a lady-like manner. BeanBagBazaar bean bags are different to any other makes that I have come across before. Starting with the fabric, the ability to wipe clean is always a huge plus point. On to the filling, ooh the filling… with so many more beans inside it helps support your little reader as they sit and relax to read their favourite book.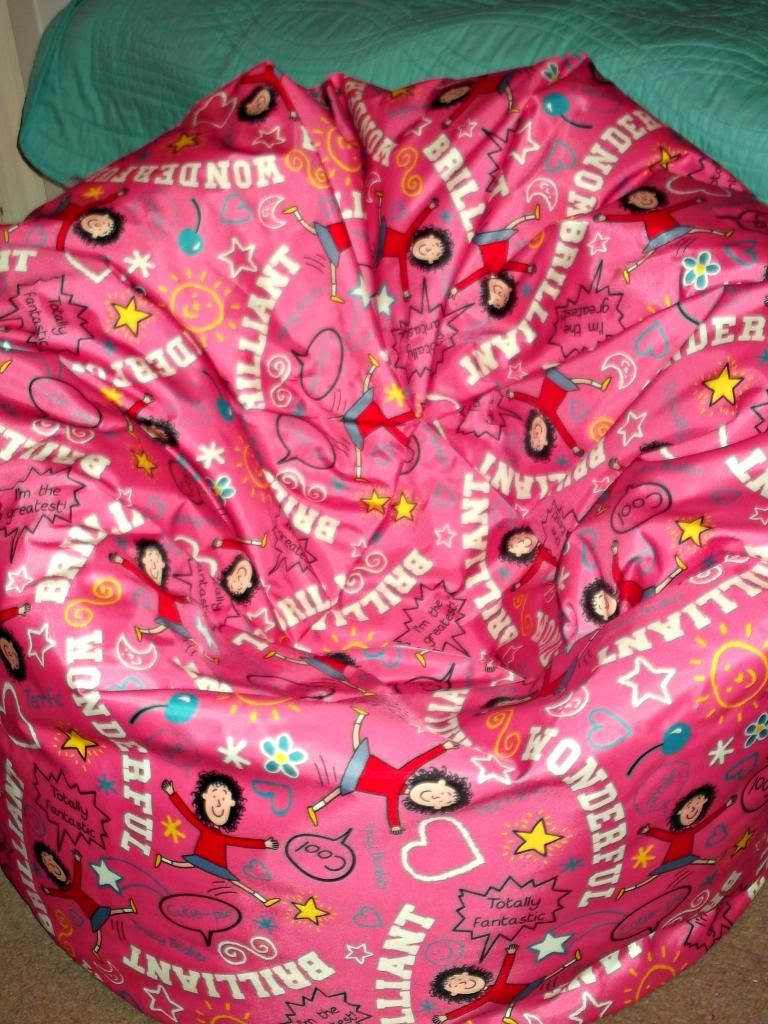 As you can see upon getting up from the bean bag it keeps the support shape that has just cocooned your little one.
Boo Roo and Tigger Too's thoughts…
I loved the practicality of the bean bag from being wipe clean, being able to use indoors and outdoors and most importantly the support it gave Roo when sitting reading her books. I didn't have to worry about her slip sliding out of the bean bag and hunching over trying to get a comfortable position. BeanBagBazaar bean bags fit around your little one depending on their size.
Roo loved the bright bubblegum pink colour (what little girl wouldn't?). She was comfortable and happily sat reading, watching a movie or playing with her dolls.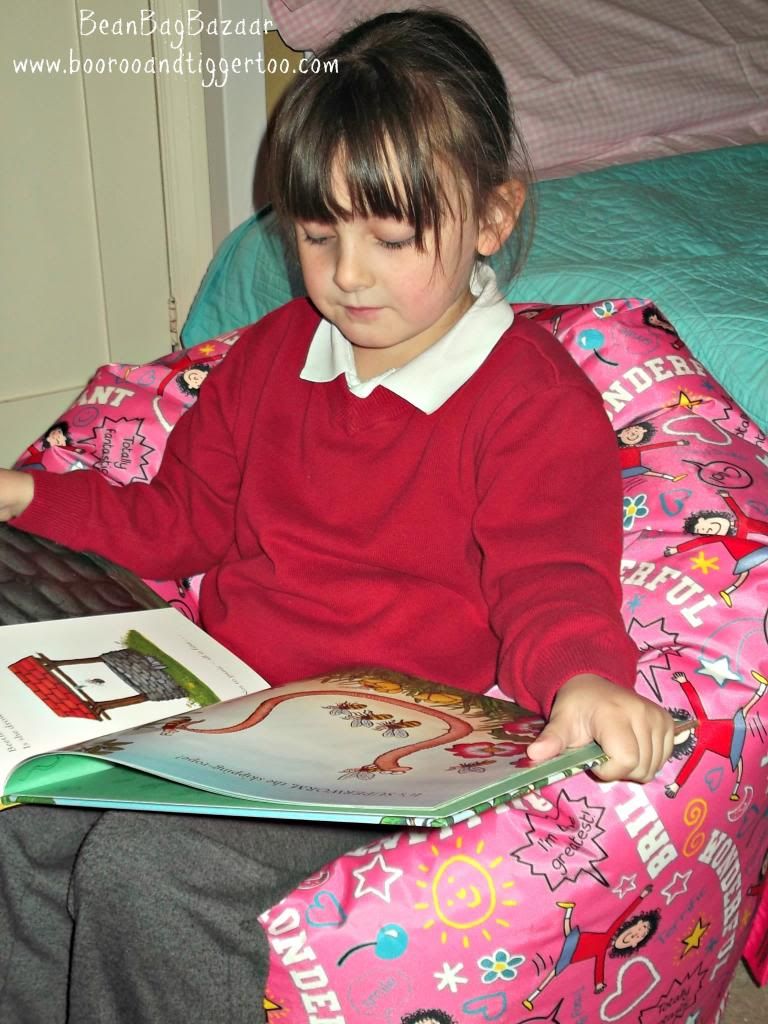 The officially licensed
Jacqueline Wilson bean bags
are available in four unique and fun designs exclusively from BeanBagBazaar from £49.99 with free delivery, also available from Amazon.
BeanBagBazaar are currently offering buy one get one half price across their Kids Bean Bags
Boo xxx
Disclosure Policy
: We were sent a Jacqueline Wilson – Tracy Beaker bean bag in order to complete this review post.