One of Roo's favourite books is The Lion, the Witch and the Wardrobe. Following the tale of Lucy, Susan, Peter and Edward as they are evacuated from London during the war. Set to the countryside where an unlikely adventure unfolds during a game of hide and seek.

With World Book Day coming up Simply Fancy Dress offered Roo the chance to select one of their World Book Day costumes. It was a hard decision but after seeing a World War II evacuee costume she asked for that one so that she could dress up as Lucy and pretend to be evacuated too. Transporting her from the here and now, back to World War II England, leaving London and heading off for the countryside for a whole new adventure.
The costume comes complete with navy button up dress, green beret and brown 'gas mask' style bag.
I ordered Roo the meduim (age 7-9yrs) as I was worried that the small (4-6yrs) would be too small. As the sizing is quite generous I could have easily bought the small and it would have been suitable for her age and height. Saying that the larger size I ordered doesn't drown her so it will last that little bit longer.
Upon unpacking the costume is creased from being stored but nothing a quick iron doesn't solve. The dress buttons down the front to the waist allowing ease of dressing, there is also an elasticated waistline to the rear. Complete with an attached fabric name tag to the collar. The brown 'gas mask' style bag  and green beret add the finishing touches to the costume. I decided to pair the costume up with a pair of brown tight but could easily have chosen white or grey too.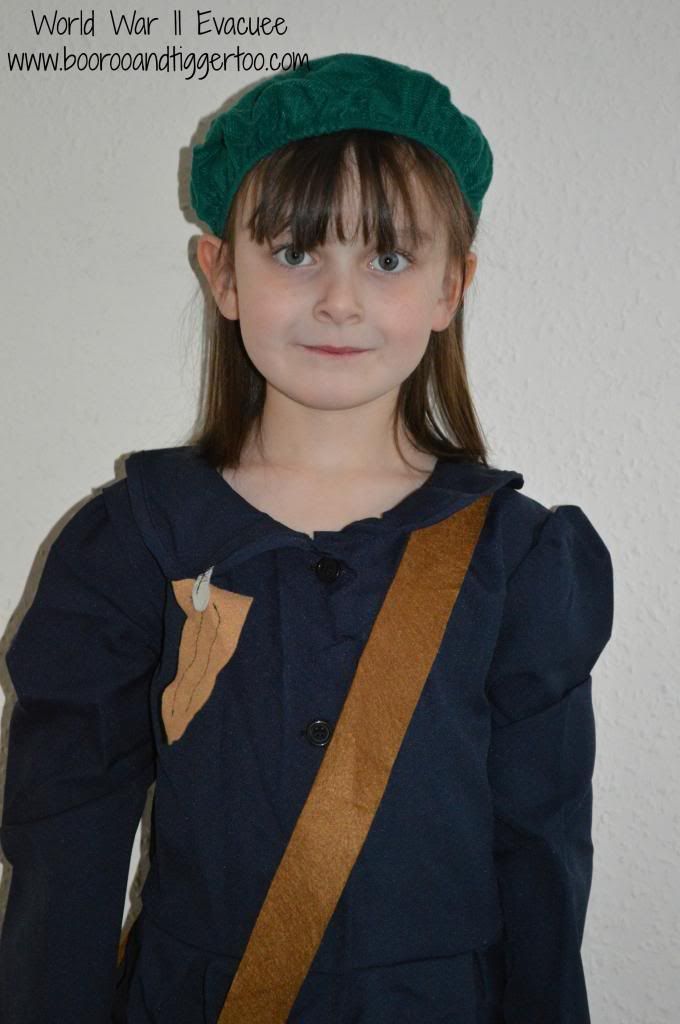 'Mummy, do you think I will meet Aslan?' – Roo