Every week I seem to face the same 
scenario when emptying Roo's school bag…
Dear Parents, We have been informed that there is a case of headlice in your child's class…
It's amazing the effect of reading those words can have on me, before I have even turned to put the note in the recycling bin I am itching my scalp.
This has become our routine:
Only washing hair using Vosene
Combing through sectioned hair with a Nity Gritty comb
Spraying her hair with water and tea tree oil when tying it back for school
Applying a thick layer of hairspray in a vain attempt to repel the lice
It's not working though and recently I noticed Tigger scratching his head more often and upon inspecting noted that he too had lice. Arrggghhhh… it least it was easier to comb through due to the shortness but I honestly (naively) thought that he would be OK as his hair is kept fairly short, obviously not #mummyfail.
The one sobering fact is that I am not alone in my quest for lice free children, 
recent research from Netmums showed that 88% of parents would like to see the Nit-Nurse back in schools. I would love to see the return of the Nit-Nurse,  I can remember them from my school days and don't see any harm in someone checking my children's hair.
Parents spend £33m on products every year – Mintel report

Over half of all four to 11 year olds catch head lice every year 

Parents take 2.78 million days off of work because their children have got head lice

80% of over the counter products don't work – meaning children remain infested and more treatments are then required 
The Hairforce sees parents regularly who have been using over-the-counter treatments for as much as years…not being aware of any other solution.
Says Dee Wright, Founder of The Hairforce, "There is a  common misconception amongst parents that children are being re-infected constantly, where in fact, the majority of the time the products they are using have failed to clear the infestation. Where some products may kill the adult lice, they don't clear the eggs, or nits…leaving them to hatch and start the cycle all over again."
The Hairforce is a rapidly growing business that takes the problem off of parents' minds by efficiently clearing 100% of lice and nits….GUARANTEED. And it doesn't use ANY chemicals. The process is forensic, very thorough and takes place over 2 appointments, 7 days apart. 
Hoovering the hair with a specialist lice hoover removing all the live lice

Dehydrating the nits using the unique LouseBuster™ device

Removing by hand all the visible nits with a full comb out
During a visit to any of The Hairforce Lounges, children are seated in a comfortable chair and given games to play or DVDs to watch on a hand held device – allowing the Lice Assassins to work on their hair easily.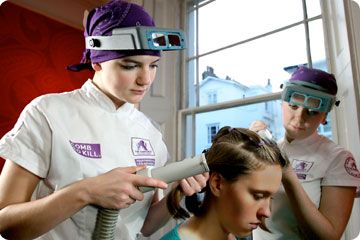 The whole treatment is £150 –  £100 for the first appointment and £50 for the second. The Hairforce will guarantee that the infestation is cleared over these appointments. 
To book an appointment, get advice or find out where your nearest lounge is, call 020 7485 7351 or visit www.thehairforce.co.uk.
It may seem expensive but when you de-lice your child's hair do you really get them all out?? I personally would pay to have their hair 'cleansed' so that I could establish a management plan on how best to be proactive against lice.
Boo xxx
Disclosure Policy
: I have received no products or financial compensation for this post, I am just sharing some fab information with you.