As winter descends, all of us rush to dig up those woolly jumpers, fleecy gloves and extra throws: 'tis the season to be comfy and cosy.
But really, comfort should be an all-year round thing. And the way to guarantee this is to make sure you have the right furniture in the first place, as well as all those little accessories that make us feel both warm inside and out, such as favourite cushions, blankets, books and keepsakes of happy times with family and friends. In this post we'll give you a run-down of what we truly believe makes for a comfortable living room.
Style your seating correctly
This way, you don't have to stretch to look round and have a conversation with guests. That means positioning your seats in a circular manner, and if that seating happens to be incredibly comfortable too, like Human Touch recliners, then so much the better.
Create lots of layers
By that we mean add cushions and throws to your seating area. Not only will this keep you warm (a must, even on those cool summer nights), but it'll also look more attractive – and if those layers happen to match with your room's accent colour too, that's an even bigger plus. These colourful artisan Fairtrade cushions from Design Raaga are just the ticket.
Let the light shine
There's nothing cosier in the long winter nights than the glow from a pretty lampshade. It can change the whole mood of your room. Don't just stop at table lights though; think wall lights too. Your sitting room should have layered lighting – accent lighting (picture lights), ambient lighting (wall lights) and accent lighting (table lamps). This modern-looking lamp from Junie-Living would fit in with most styles, but particularly those which are Hampton's-decor inspired.
Books, books and more books
Yes, in this technological age it's tempting to turn everything over to digital access. But books have a warming effect. The sight of all those lovely stories you can get lost in at any time is a psychological comfort in itself. Just make sure you arrange them attractively. In fact, you could always branch out and treat yourself to a tree-shaped version.
Roll out those rugs
A pretty or striking rug doesn't just add visual interest; it can also bring warmth to wooden and tiled floors. It can also help 'centre' your living room. This hand-stitched cowhide rug from artisan Gambrell Renard is a bit special, don't you agree?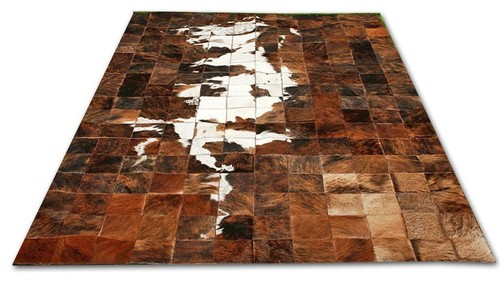 Make sure your mirrors measure up
Mirrors introduce light into a room – which is far more comforting than darkness. By reflecting loved objects already in the room a mirror will double your pleasure. Then there's that whole thing about making the space feel larger. This Ron Gilad's IX mirror would certainly prove a talking point – in any room!
Keep clutter to a minimum
Untidiness isn't just mood-depleting, it also manages to ruin the look of a room. There are so many pieces of attractive storage furniture around these days that there's no excuse really for not being able to tidy things away easily. Take this round ottoman, for instance, it works as both a stunning coffee table and storage unit:
Put up picture frames
Keep smiling all year round by surrounding yourself with photos of happy days out and treasured family and friends. There are so many attractive photo frames to choose from these days that you could spend hours trying to choose your favourites.