Tigger loves giraffe's, so when Funky Giraffe offered one of their playsuits the obvious choice was the giraffe design. Tigger is fairly tall for his age and most playsuits I have come across tend to be no good as they either come with feet and soon be come too small as they are pulling on his toes when he walks. Or they are ankle swingers and don't look right.


Funky Giraffe Playsuit
Using our own popular funky giraffe trademark we have designed this bodysuit in house to create a stunning bodysuit that looks stylish and fun whilst still being suitable for everyday play. The nickel free poppers ensure a snug fit whilst the footless bodysuit ensures optimum fitting for even the taller baby.
One of the first things I noticed about the playsuit was that there was no nasty tags on the neckline. Tigger is always pulling at those tags and it was so refreshing to see that Funky Giraffe had obviously realised how uncomfortable tags are for children.

Tigger was so excited to see the giraffe design on the front of the playsuit and asked 'I wear it now?'. The fabric is soft to feel and with a simple slip over Tigger's head a few pops, he was off. He enjoyed wearing it whilst playing so much it was difficult to get him to sit still for a picture.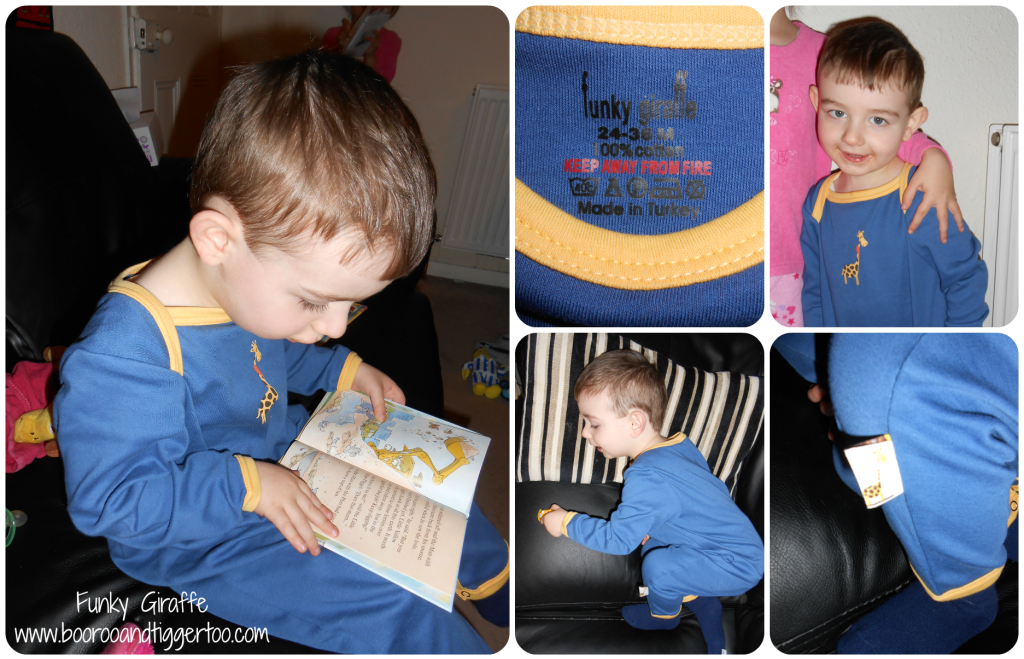 Whilst the playsuit looked great for the first wear, the proof of any garment is in the washing. Washing at 40 degrees and hung out on the washing line (or in the case of our weather, hung on the clothes horse) makes it an easy wash item. After washing the playsuit was just like new, no shrinking or stretching, no bobbling and all the poppers lining up with where they should be.
Price
£10.00 each or if buying multiple can be as low as £7.00 each.


About Funky Giraffe
Funky Giraffe was set up in 2009 by Yasmin Drury, having worked for a major retailer she was all too aware of the cost of production and the massive mark up charged by companies. As a mum herself, she knew what she wanted for her son and set out to produce funky designs at a reasonable price.
More Info
Boo xxx
Disclosure Policy
: We received a Funky Giraffe Playsuit and Bodysuit in exchange for this review.