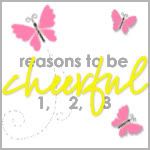 I've been feeling more positive this week and whilst there have been somethings that have gotten on top of me emotionally I have not let them get me down for long.
1. Roo advanced to the blue reading level, one level above what the teachers wanted her to achieve by the end of the week. I'm so proud.
2. Mr Boo's nanny is not well and has been transferred to the hospital ward where I work. Whilst it is not a good thing that she is in hospital, I'm pleased that I can go and sit with her whenever I want whilst I'm at work.
3. Tigger is now standing, only for a few seconds at a time but it's progress.
If you fancy sharing your #R2BC or read some more entries check out Mummy From The Heart