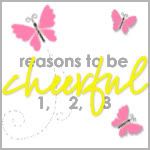 It's been a
difficult week
, well month really. It's started me thinking that I need to be more thankful of the everyday things rather than the grand gestures or milestone.
1. Mr Boo and I are both off for half term and whilst we haven't had any time for just the two of us it's bee great to spend time as a family
2. After retrieving my 'skinny' clothes from the loft, I sorted through them and was pleasantly surprised to find that they all either fitted or were on the large side… yay!
3. I've been stroller shopping, as I didn't want to get Tigger out of his pushchair in the store (he would never have gone back in) Roo very kindly jumped in. If a stroller can take her size and weight then I'm happy. It was good fun trying all the different styles. Although I saw one I liked (Chicco Liteway), it has worrying reviews about the frame splaying and the back wheels turning inwards after as little as a month!