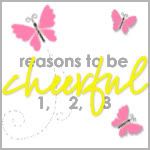 I'm late posting my #R2BC this week, no good excuse really just been to drained to many posts this week. There's my reasons for this week:
1. Tigger's appointment to see the surgeon has come through, so now I have a date which makes me feel much happier. Thank you Dr S you have worked your magic once again.
2. i decided to have a bug clearout of my bigger clothes and tops that I feel fruppy in. I've decided to donate these to the Salvation Army for two reasons. Firstly they are wonderful people who would help anyone and secondly I don't want to know I have phat clothes in the house that I can just grab and put on.
3. Roo's spots have all finally scabbed and is returning back to school tomorrow, yay!