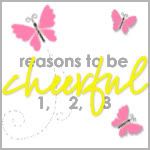 I've had a lot on my mind this week and been a little withdrawn (my family are probably enjoying the peace and quiet). Mr Boo's nanny is still in hospital and is so very ill, this has been hard for me not only because she is a fabulous lady but as I see her when I go to work.
1. After finally voicing my concerns to the health visitor about Tigger, she advised me to see my GP. Thankfully his appointment was today, it is what I thought it was and will need to see a surgeon. Our family GP is amazing and always puts my mind at ease so I feel slightly better knowing that he is on the case.
2. I picked up my new glasses late last week and I love them (mind you so I should considering I visited three different opticians to make sure I chose the right ones).
3. I won a Pushchair Trader competition before Christmas, a Smallprint silver pendant. It arrived this week and its gorgeous, not sure I personally would spend £85 on something like this but it is beautiful. I chose a flower design with Roo's handprint on there as I could add this to her charm bracelet she got when she was a baby.