Scooby-Doo foils a comic book baddie in this all-new original movie
The Mega Mondo Pop Cartoon-a-Con in sunny California marks the spot for mystery in this all-new original Scooby-Doo adventure!
Herculoids, Frankenstein Jr. and Space Ghost are just a few of the celebrated comic boo characters headlining at the unconventional convention, plus there's a megabucks movie premiere starring Scooby-Doo and Shaggy's all-time favourite super heroes Blue Falcon and Dynomutt! So when the gruesome villain Mr. Hyde unleashes monster bats, howling hounds and sinister slime upon the festivities, it's time for Mystery Incorporated to follow the clues and set their monster traps. But it's the pizza-snacking, super-powered tag team of Shaggy and Scooby-Doo who tap into their inner super-hero to prevent the entire event from being smothered in ghoulish green goo! Like right on, Dog Wonder!
Roo is a huge Scooby-Doo! fab so when Warner Bros. offered us the opportunity to review the latest movie from Scooby-Doo and his friends I knew that she would be one happy little girl.
The day the film arrived in the post was a school day and we had to collect it from our local delivery office. Upon opening the envelope the film was wrapped up nicely in WB wrapping paper, leading to more anticipation as to what was in store for Roo. After ripping open the paper she started dancing around the dining room, begging me to let her watch it immediately.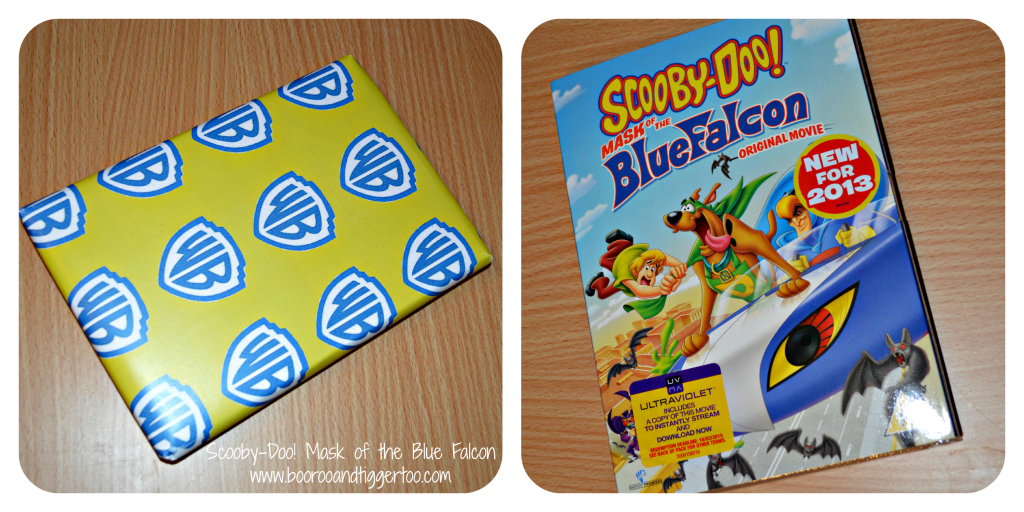 I don't usually let her watch movies on a school night but by 5.30pm I couldn't stand the constant 'please Mummy, pretty please' any longer so gave in and said she could watch upstairs in her room. It's the fastest I've seen her get changed for bed in a long time.
The movie lasts approx 73 mins and certainly kept Roo quiet. Once it had finished she came downstairs and asked if she could watch it again! As it was a school night I explained that she couldn't watch it again but managed to take her mind off the disappointment by letting her tell me all about the latest offering from Scooby-Doo and the gang.
Roo loved the different characters in this movie, getting her love of super heroes from Mr Boo. She did think it was funny that she was watching Scooby-Doo and Shaggy go watch a movie when she was watching them… bless her.
Scooby-Doo! Mask of the Blue Falcon is available from Amazon
and other good DVD retailers. You also get a UltraViolet code to allow you watch the film digitally via your laptop, tablet, smartphone or console.
Disclosure Policy
: We received a copy of 
Scooby-Doo! Mask of the Blue Falcon on DVD in order to write this review.