Picture the scene… You've just had text from your best friend who is having a bad day. Now being the best friend you are you want to make her day better. Just one problem, you are up to your eyes in it and have no chance to a) pick up something to make her smile or b) pop round unannounced with some much need chocolate.
How Parcelgenie works
What treats can I send?
Fun – happiness chocolate bar £3.49, chill out album £5.60, retro sweet box £3.99
Celebrate – birthday treats box £5.99, leather booties £9.99, charm of success £6.49
Romantic – big love parcel £7.99, book of love £4.99, love hearts sweets £0.99
Pamper – pamper kit £4.49, Burt's hand cream £12.99, gin & tonic soap £3.99
Thoughtful – big care parcel £11.49, mini chocolate pizza £6.99, hot chocolate & cookie £3.99
I was given the opportunity to not only receive a lovely little surprise but to send a little something to test drive the Parcelgenie service. I was lucky enough to receive a lovely Christmas Stocking full of yummy treats.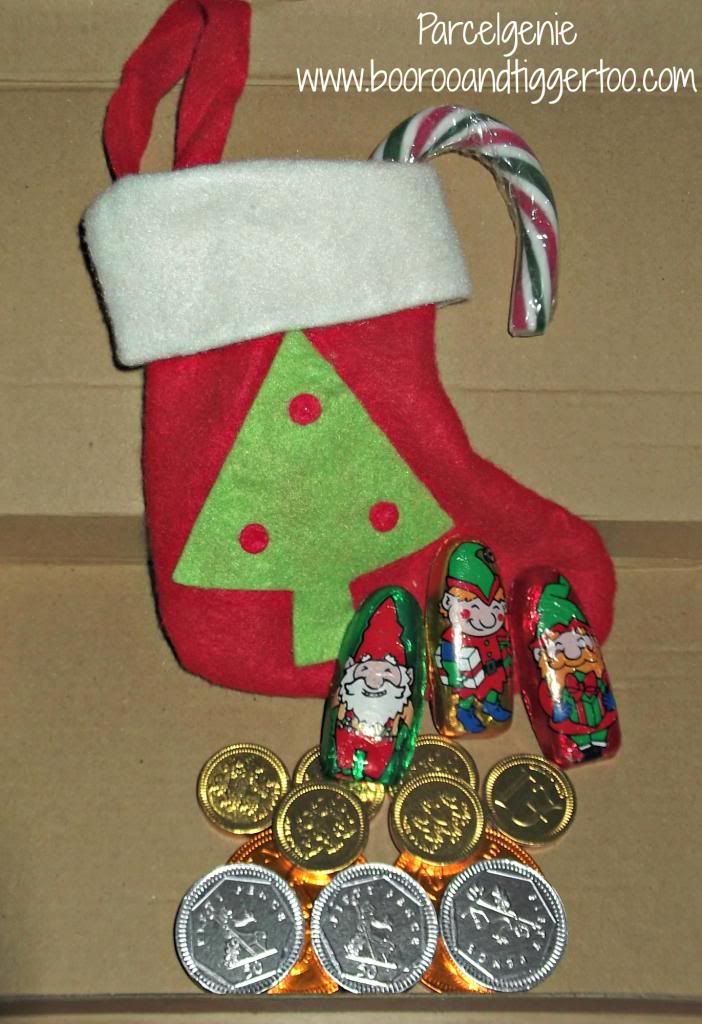 Now of course the only way you can fully understand a service is to put it to the test. Parcelgenie kindly sent me a code in order to send a special treat. However this in itself throws up two challenges, firstly, who do I treat and secondly, what do I choose to send them??
In the end I decided that I wanted to say thank you to someone who has been a fantastic support to both my blog and me personally. Never knowing how much a 'how are you today?' email can cheer you up when you are having a rubbish day at work. Actually choosing something lovely to send wasn't that difficult, my thought was to send a warm, wintry treat and found the Big Care Parcel, priced at just £11.49 for a Byron Bay cookie, cute hand warmer, Galaxy hot chocolate and Gin & Tonic soap.
So Jess…. Thank you, I hope you enjoy
After receiving confirmation that Jess had accepted my gift and passed on her address details, all I could do is wait to see if she liked her gift.
Upon receiving her Big Care Package, I received two special tweets…
Firstly showcasing the beautifully wrapped gifts…
Finally sharing her treats pic with me…
Boo Roo and Tigger Too's thoughts…
I think that this service is fabulous, the idea that should you suddenly realise that you have forgotten a friend's birthday or receive a celebratory text on the birth of a new addition or just to cheer someone up, that you can simply select your chosen gift, pay via mobile phone bill, PayPal or card and then wait for your gift to arrive. With a great selection of gifts that is always changing, there is bound to be something there for every occasion. Plus with prices starting from just 99p including delivery is great value too.
What gift would you send?
Who would you send it to?
Boo xxx
Disclosure Policy
: I was sent a Christmas Stocking and Promotional Code from Parcelgenie in order to complete this review.