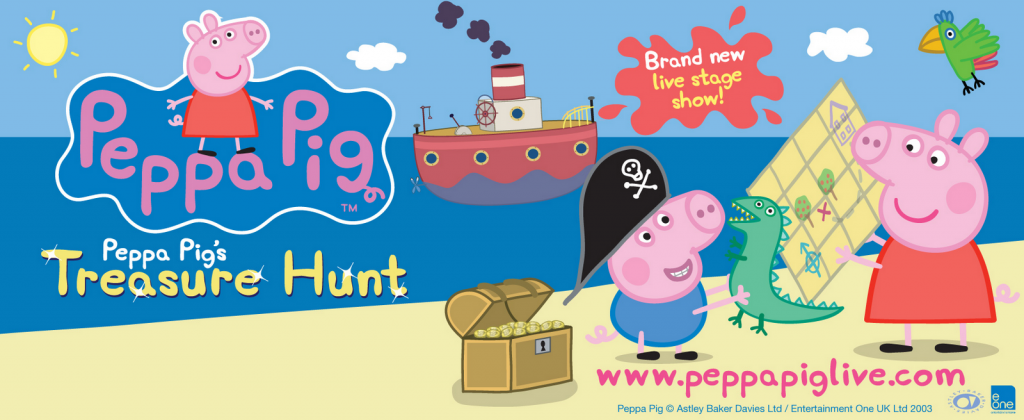 Peppa Pig's Treasure Hunt – Peppa Pig's second live stage production – proved to be a huge success on its travels the length and breadth of the UK and Ireland in 2011 – 2012, with sell-out performances wherever it went. This enduringly popular production for younger children opens at the Criterion Theatre on Thursday 6 December, giving Peppa Pig her third consecutive Christmas season at the West End venue, and runs to 6 January.
The Peppa Pig stage-show has a very successful track record at the Criterion Theatre, where for the past two Christmas seasons Peppa Pig has played to packed houses (2010 and 2011), breaking all the theatre's previous advance box office records. Her first stage tour, Peppa Pig's Party, was also one of the top-selling children's theatre shows in 2010 and 2011.
In Peppa Pig's Treasure Hunt Peppa Pig and her friends set off on a new adventure, a treasure hunt. Peppa, her brother George and friend Danny Dog get up to fun and games on a day out on Granddad Dog's boat. There are clues aplenty as Pedro Pony, Polly Parrot and Zoe Zebra help them find their treasure as they all enjoy a day of adventure. Peppa Pig's Treasure Hunt features true-to-life puppets, sing-along songs and a story that will charm and delight all her fans.


GIVEAWAY
I have 1 family ticket up for grabs for Thursday 20th December at 2.30pm. A family ticket is for 4 people, minimum 1 adult. The tickets are non-transferable. No cash alternatives, accommodation or travel are provided in this competition. 

To enter please submit your answer the question below

Q: What is Peppa's brother called?

A. Andrew
B. George
C. Paul


Closing date: Sunday 16th December 2012
Competition Terms & Conditions:
1. This competition is open to residents of the UK, Channel Islands, Isle of Man and Republic of Ireland aged 18 years or over, except for those associated with the production company, their families or anyone else associated with this competition.
2. All information detailing how to enter this competition forms part of these terms and conditions.
3. All entries must be received by the advertised closing time date.
4. One entrant shall win a family ticket comprising of either: 2 Adults & 2 Children or 1 Adult & 3 Children to a single performance on Thursday 20th December 2012 @ 2.30pm.
5. The winner may be required to take part in publicity.
6. All prizes are non-transferable and there are no cash alternatives. The prize is subject to availability.
7. Events may occur that render the competition itself or the awarding of the prizes impossible due to reasons beyond the control of the Promoter, and accordingly the Promoter may at its absolute discretion vary or amend the promotion and the entrant agrees that no liability shall attach to the Promoter as a result thereof.
8. Boo Roo and Tigger Too is responsible for the first part of the promotion, which is the publication and adjudication of the competition. All other facilities connected with the provision of the prize are the responsibility of the Promoter.
9. English law applies and the exclusive jurisdiction of the English Courts shall prevail.
Boo xxx