It's that time of year again the embarrassing Christmas jumpers come out, the kids are raging with excitement and parents spend the whole of November and first 24 days of December being stressed!
Well Dr. Beckmann, the UK's leading laundry specialist, know a little bit about easing the stress that comes with Christmas for most Mums. It's not just about the money that gets spent over the holiday period on food, decorations and of course presents, it's also about spending time with the family and enjoying the extra time you have together.
Things are a bit tight financially for everyone at the moment and especially around Christmas so now more than ever it's important to take care of the things you have and make them last. The Dr. Beckmann laundry range has everything you need to keep clothes stain free, whites glowing and colours looking brighter for longer. And their household range will have your floors and carpets looking like new, even if Santa spills a drop of sherry on your carpet. Dr. Beckmann can even help your washing machine and dishwasher survive the Christmas period with their Service-it range; the extra use can really take its toll on appliances so it's important to give them a little TLC too.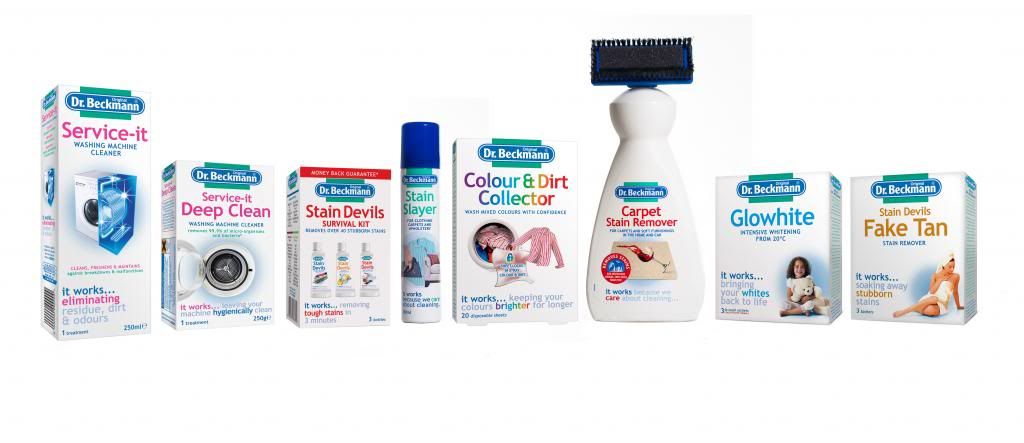 Dr. Beckmann have a few products in their Christmas sack that can save you time and money when it comes to keeping your family's clothes and home looking great. To help make Christmas 2012 that little bit easier Dr. Beckmann have put together a great hamper of products to help you through to New Year. Including the following products and much more…
Cleaning up after the Christmas lunch can sometimes be a bit like cleaning up a crime scene. We've all seen the drops of gravy or the cranberry sauce that don't make it to the plate, or the red wine that gets knocked over during the cracker pulling. The Dr. Beckmann Stain Devils Survival Kit (RSP £3.99) will come in particularly handy for ridding clothes and table cloths of those tricky stains. This fantastic kit is perfect for any stain emergency and having this on hand means you can remove over 40 stubborn stains at a moment's notice.
Christmas means parties and parties mean colourful and sometimes expensive clothes that you want to keep looking good for the whole season. Dr. Beckmann Colour & Dirt Collector (RSP £3.20 for 30 sheets) helps keep colours looking brighter for longer. Just pop a sheet in with your wash and all the stray colour & dirt molecules will be collected, preventing them from settling back onto your clothes making colours look duller.
Christmas parties can sometimes be spoiled by the thought of your carpet being ruined by spilled drinks and ground in food. Dr. Beckmann Carpet Stain Remover (RSP £3.09) works like magic on drink stains such as red wine, the unique brush attachment means you can get right to heart of the stain no matter what the pile of your carpet is. It also works great on muddy foot prints, just in case Santa doesn't wipe his feet.
For the Kids…
As well as this fabulous hamper Dr. Beckmann are giving you an additional chance to win over on their Facebook page. Although only one winner will be selected from this blog they will be giving away another hamper plus the new Kindle Fire to one lucky Dr. Beckmann fan with an additional 5 runner up hampers up for grabs.
The Kindle Fire is set to be at the top of many people's Christmas lists as it is a hot rival to the Apple iPad. Not only is the Kindle Fire great for reading, which we discovered was high on the list of hobbies children enjoy the most, equal to playing computer games in fact, but it is also great for gaming and watching TV and films.
GIVEAWAY
For you chance to win a Dr. Beckmann Hamper simply leave me your best cleaning tip below, then complete the Rafflecopter widget for further entries.
Closing Date: Friday 14th December 2012
Competition Terms & Conditions:
1. This competition is open to residents of the UK, Channel Islands, Isle of Man and Republic of Ireland aged 18 years or over, except for those associated with the production company, their families or anyone else associated with this competition.
2. All information detailing how to enter this competition forms part of these terms and conditions.
3. All entries must be received by the advertised closing time date.
4. One entrant shall win a Dr. Beckmann hamper.
5. The winner may be required to take part in publicity.
6. All prizes are non-transferable and there are no cash alternatives. The prize is subject to availability.
7. Events may occur that render the competition itself or the awarding of the prizes impossible due to reasons beyond the control of the Promoter, and accordingly the Promoter may at its absolute discretion vary or amend the promotion and the entrant agrees that no liability shall attach to the Promoter as a result thereof.
8. Boo Roo and Tigger Too is responsible for the first part of the promotion, which is the publication and adjudication of the competition. All other facilities connected with the provision of the prize are the responsibility of the Promoter.
9. English law applies and the exclusive jurisdiction of the English Courts shall prevail.
Boo xxx
Disclosure Policy
: I have received two Dr. Beckmann products alongside this fabulous giveaway