As a parent, I feel it only right to say a little thanks to those wonderful, patient, caring professionals who guide our children through the wonder that is the National Curriculum. Those men and women who attempt to instil patience, manners and knowledge into our children. Those who inspire our children with different subjects, activities and interests.
So this time of year I'm on the lookout for the perfect gift to say thank you and Merry Christmas to Roo and Tigger's teachers. Please take a look at my top 6 teacher's Christmas gifts, I hope I inspire your gift-buying.
Candle Gift For Teachers
Personalized candles make for a thoughtful and unique teacher gift, especially after a long term. Not only do they create a relaxing atmosphere, but they also show appreciation for all the hard work that teachers put in daily.
One producer of personalized candles is Kindred Fires, which makes scented soy wax candles that you and your child can completely personalize with a special message. You can find these at www.kindredfires.com. It's a great way to make your teacher feel special and appreciated; it's also practical, as any teacher will benefit from making their home smell fresher.
---
Red Ted Art: Cute and Easy Crafts for Kids
If you are not familiar with the very talented Red Ted Art I have to ask where you have been hiding. Maggy Woodley, the very creative brain behind Red Ted Art has a wide range of different crafts for almost every occasion. This is something that we bought for Roo's teachers at the end of term and they were very pleased with it.
Where to buy: Amazon (affiliate link) and The Book Depository
---
Funky Stationery
I love stationery and often joke that it is the reason I work in administration just so I get to order and play with new stationery every day. Teachers go through a lot of stationery but let's face it school supplies aren't all that so why not treat them to a few funky pieces of stationery to write their lists on, keep their records straight or mark the endless homework pile.
The high street is a great place to pick up cute and funky pieces of stationery and not expensive either so why not pop into your local Wilkinsons and pick up a couple notebooks, pens or folders for your child's class teacher this Christmas.
Where to buy: Wilko – either online or instore
---
Baylis & Harding Sweet Mandarin & Grapefruit Slipper Set
Baylis & Harding Sweet Mandarin & Grapefruit Slipper Set is great for anyone who needs to sit down and put their feet up for a while and who is better than your child's teacher. Let them indulge in a spot of toe-tingling pampering with the set that includes 140ml Foot Lotion, 100g Foot Soak Crystals and a pair of faux fur slippers.
Where to buy: Lloyds Pharmacy
---
Coffee Gift for Teachers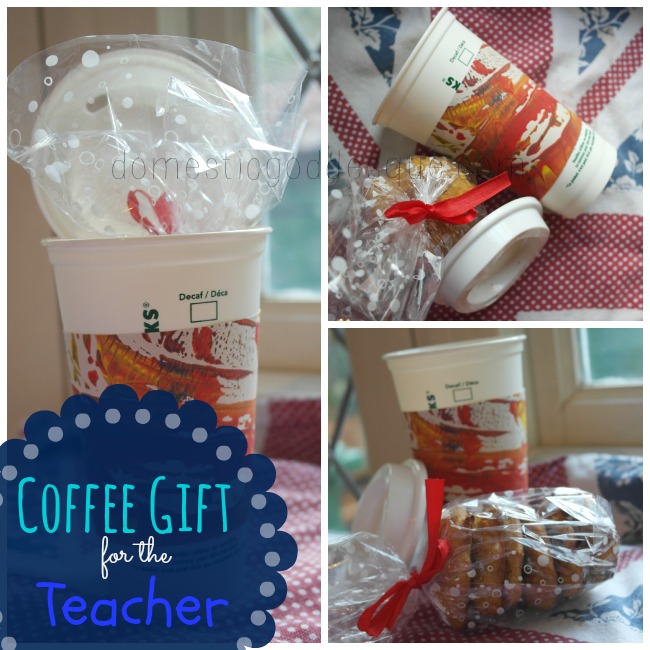 Last year I came across a fabulous teacher gift idea from Domestic Goddesque, a brilliant easy-to-make gift for any coffee lover (if you think that they prefer tea then take a look at this amazing Tea Bouquet).
This gift idea would work well with the charity Rays of Sunshine travel mugs that are exclusively available in Clintons – Rays of Sunshine is the Children's Charity that brightens up the lives of children living with serious or life-limiting illnesses by granting their wishes. These travel mugs could be given as they are or filled with biscuits.
Where to buy: Clintons for the Rays of Sunshine travel mug
---
The Dartmoor Soap Co.
Washing your hands is important in any job but going from different activities I'm sure that teachers feel like they spend a good part of their day washing their hands. So why not treat them to a little something special in the form of The Dartmoor Soap Co.
The founder, lovely mum Sophie, was inspired to make a completely natural, top-quality soap when she realised her little one had eczema. Since then, she has been on a mission to use the finest ingredients on her doorstep to hand-make gorgeous, luxurious and wonderfully smelling soaps that are beautifully wrapped and kind to your skin,
Where to buy:  The Dartmoor Soap Co.
What will you be treating your child's teacher to this Christmas?